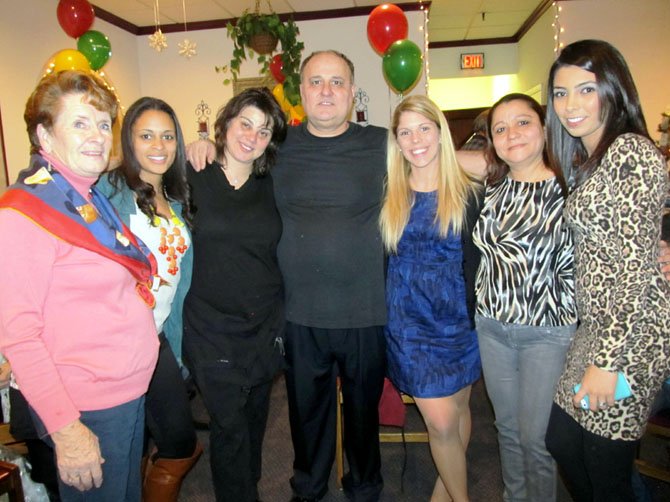 On a typical Saturday night, Milano's restaurant, a Springfield institution, is packed with regulars and newcomers.
But last Saturday was different.
There was standing room only in the restaurant as more than 100 family, friends, customers and employees eagerly waited for owner Jimmy Goranitis to walk through the doors so they could shout "surprise!" They were celebrating his 55th birthday as well as the 33rd anniversary of the family-owned restaurant.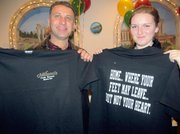 "Where is he? They said he was coming an hour ago," said Cathy Goranitis, Jimmy's wife, as she greeted customers and hugged former employees, whom she refers to as her "kids."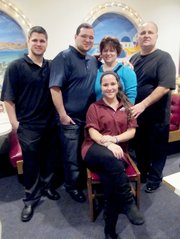 Cathy Goranitis and her husband both grew up in Krokeai, a village in Greece. They were high school sweethearts, she said, and dreamed of raising a family and opening a restaurant in America. In the late 1970s, they emigrated to the U.S., settled in West Springfield and had three children, John, Dimitri and Theano, who all worked with their parents at the restaurant.
"Both staff and customers alike hope that Jimmy and Cathy will keep Milano's going for at least another 33 years."
Gay Koerber, a Milano's "regular" for more than a decade.
IN 1980, they opened Milano's in a small strip shopping center on Rolling Road. The restaurant specializes in Greek and Italian food, Sunday brunch and provides catering. Over the years, the Goranitis' expanded the restaurant and their base of loyal customers and employees.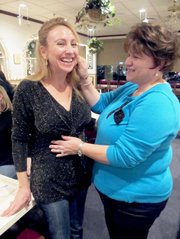 "These are good people who worked here over the years. I like to see smiles, so I made sure they ate like us and we celebrated all their baptisms, weddings, you name it," Cathy said. "My favorite thing is to see some of these kids come back and bring their children."
"This is like a high-school reunion. I'm the Class of '85," Nora McGinnis-Jewell said, greeting other former employees with the year she worked at the restaurant. "Jimmy and Cathy were like our parents. They helped us a lot. I worked as a waitress until I was eight-and-a-half months pregnant."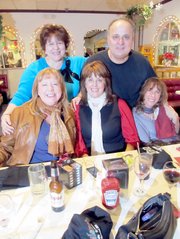 "It's fun going down memory lane," said Helen Cornwell, a former waitress. "You learned a lot of life's lessons here. If you work hard, you can accomplish something. That's what Jimmy taught us."
Server Kayse Krilis and Judy Kirk, a former hostess and cashier, were key players in organizing the surprise party. Krilis, who was born in Greece and came to the United States when she was 16 years old, began working at the restaurant in 1993. "I started working here before I could speak English. This is like a second home to me," she said.
More than 50 past and current employees attended the party, along with dozens of regular customers. Eddie Jabro, a waiter during the 1990s, flew in from California. Sunil Sharma, originally from India and the longest-serving employee, began working at the restaurant in the 1980s. He is currently second-in-command in the kitchen. His nephew, Anil, also works at the restaurant part-time, while attending Northern Virginia Community College. "Jimmy and Cathy are the best people," Sharma said.
Larissa Cookson, a Lake Braddock graduate who worked at the restaurant from 2006 to 2011, said many employees started coming to the restaurant with their families, who were Milano's regulars. "A lot of us worked here in high school, and then came back during college breaks."
Sahar Williams, a former hostess, cashier and waitress, said Jimmy was like a second father to her. "He would meet my boyfriends, and approve or disapprove. He was always very caring," Williams said.
AROUND 9:30 p.m. Jimmy arrived with his two good friends, George Krilis and George Kosmakos, who took him to a restaurant in D.C. for his birthday, to throw him off the scent of the surprise party. Jimmy said the diversion worked.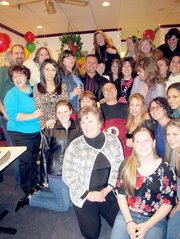 "I can't believe this. I am very surprised," he said, stopping to greet everyone with a kiss or a hug. "This is wonderful. It's like a reunion."
Gay Koerber and her husband Charlie, regular customers for more than a decade, were not surprised that so many people attended the party.
"Over the years Jimmy gave many young people opportunities to work while they were in high school and college," Koerber said. "Loyalty at this restaurant goes both ways. Jimmy is always supportive of his staff and the staff would do anything in the world for him. His customers feel the same way."
Koerber said the Goranitis family succeeded in making Milano's a key part of the community. "It's a 'go-to' place for teachers and students from West Springfield High School and it's a great place to have brunch after church on Sundays. The food is excellent and the camaraderie among staff and customers is remarkable. It's common to see people moving from table to table talking to friends and neighbors."
"New England has its neighborhood bars. We have our Milano's," said Charlie Koerber.