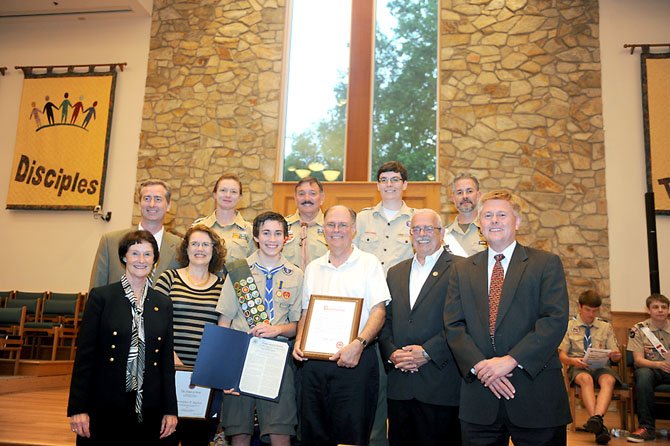 Smiling with his head slightly bowed, Boy Scout Christopher Mayhew of Fairfax was greeted with thunderous applause as he
accepted the Medal of Merit during the spring Court of Honor. Mayhew, a sophomore at Robinson Secondary School and a member of Burke-based troop 1131, received the medal during the latter part of the Wednesday, May 29 evening ceremony. As described by the Boy Scouts of America website, "The Medal of Merit may be awarded to a youth member or adult leader who has performed some outstanding act of service of a rare or exceptional character that reflects an uncommon degree of concern for the well-being of others." Mayhew's recognition arose in response to actions that he took on-scene immediately after witnessing a car accident. As they collectively presented him with the honor, Boy Scout organization officials and political dignitaries commonly described him as "exceptionally brave and courageous."
ON JULY 27, 2012, then 15-year-old Christopher Mayhew was traveling back home from Virginia Beach with his parents and a friend when they witnessed a car ahead of them crash into the embankment and roll over several times. Mayhew asked his mother to pull over and immediately headed for the vehicle and its occupants. Asked why, Mayhew states matter-of-factly that, "I saw someone in distress and it was the right thing to do." His former Scoutmaster Phil Sternberg added that, "I don't think he even thought about it, he just reacted," further indicating that Mayhew showed an impulse to respond. "[The occupants] were injured, they were bleeding, and their stuff was scattered all over the area. Chris immediately started applying pressure to the wound and stopped the bleeding," states Sternberg. When first responders arrived and began administering aid, Mayhew went about collecting the stray belongings so that the injured individuals would have them as they left for the hospital.
All scouts are trained in the task of providing first aid, an integral part of Boy Scout development, but Mayhew asserted that the choice to help and aid another person is not exclusive to Boy Scouts. Mayhew describes the immediate first-aid care he provided as a matter of logic. "We took some paper towels and napkins and a water bottle, wiped [the wound] and stopped the bleeding." Mayhew likened treating the injury to the same way a person would place a Band-Aid onto a cut.
Yet, as was described by current Scoutmaster Chris Wallace, Mayhew's Medal of Merit was more than just recognition of his skills. It was recognition of his instinct to help those in need. Only 126 Medals of Merit were awarded nationwide in 2012.
MEDALS OF MERIT are awarded on a case-by-case basis after careful scrutiny of photo evidence and witness testimony, and approvals at the local and national levels of the Boy Scouts of America. Described by their website as a Meritorious Action Award, the honor is considered prestigious. In addition to friends and family, special guests Congressman Gerry Connolly (D-11), Supervisor John Cook (R-Braddock), Chairman of Fairfax County Board of Supervisors Sharon Bulova, and Delegate David Bulova (D-37) were in attendance. After presentations by each special guest, Mayhew was further recognized with letters signed by both Senators Tim Kaine and Mark Warner.
Asked what the future holds in store for him, Mayhew says he seeks to take on more leadership roles. As for long term plans, he is unsure but has a general idea of what he might pursue. "I would like to have a career in the Foreign Service or maybe in foreign affairs with the United Nations … I'm not sure how I'd get there but I'm sure it'll be an adventure."