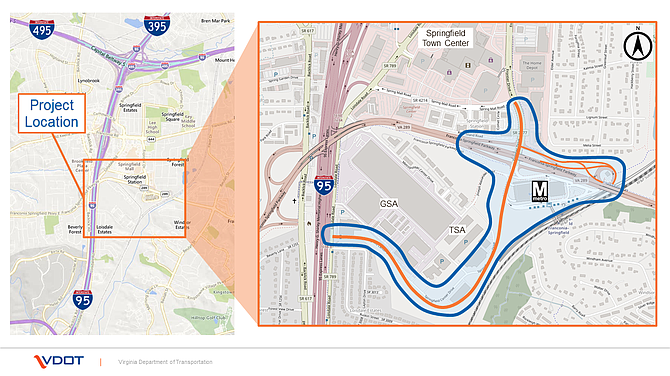 Metro is looking into traffic flow challenges as the Frontier Drive extension project moves closer to implementation in the next few years, opening up a transportation venue just south of the Springfield Town Center.
Currently Frontier Drive skirts the eastern side of Springfield Town Center, under the Springfield-Franconia Parkway to the Metro station. When the project is finished, Frontier Drive will extend south, past the newly opened Transportation Security Administration building and Loisdale Estates community, and link to Loisdale Road where a traffic signal began operating about 18 months ago. This opens access to the Northern Virginia Community College Medical Campus as well.
With the Frontier Drive extension, transportation officials are looking to possible include the following modifications to the Metro station:
Adding two new signalized intersections; one at Metro Access Road and Frontier Drive, and one reconfigured intersection to improve traffic flow and operations. 

Reconfiguring sections of the Franconia-Springfield Station circulatory road and access to parking garage entrances (all existing access points would be maintained). 

Adding three new bus bays at Franconia-Springfield Station. 

Adding a new bus layover facility. 

Eliminating the pick-up/drop-off area at Franconia-Springfield Station. 
Currently transportation officials are seeking public input on these changes and are planning a virtual meeting to discuss the findings on July 1. This project is led by Virginia Department of Transportation and Fairfax County.
More Details Including How to Provide Feedback: 
https://www.wmata.com/about/news/Public-comment-frontier-drive-extension.cfm