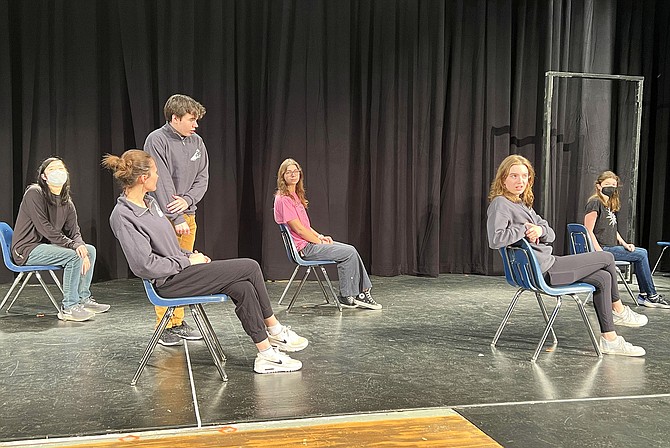 Featuring a cast and crew of 60, Chantilly High presents the play, "The Curious Incident of the Dog in the Night-Time." The curtain rises Thursday-Saturday, April 20, 21 and 22, at 7 p.m.; and Sunday, April 23, at 2 p.m. Tickets are $15, adults; $12, students, at the door or via www.chantillyhsdrama.com.
The story is about Christopher, a teenager with autism. Sometime in the night, his neighbor's dog is killed and – while navigating his own family and uncovering its secrets – he tries to find out who's responsible for the dog's death. The audience gets to see the world through his eyes as he goes on an adventure to solve the mystery.
"This is a huge production from acting and technical standpoints, and I'm really impressed with the energy and talent the students are bringing," said Director Shannon Spicer. "It's a complicated show that tackles a lot of life's difficult journeys, so there's a big investment of time and hard work by our actors."
She said the entire story takes place in Christopher's mind, based on his life story that his teacher convinced him to turn into a play. Lights and projections convey the times and locations of events – which aren't always sequential. 
"My goal is to give the audience an insight into the brilliant mind of a young person with autism," said Spicer. "It's important to accurately convey how the world is seen through Christopher's lens, and this show allows us to do that."
In an interesting twist, the play is double cast. In some shows, Jack Wolff will portray Christopher; and in the others, Nishmaya Gundapuneedi will portray the character as Christina, a female.
A junior, Gundapuneedi describes Christina as stubborn and motivated. "She has so many goals she wants to achieve, and her mind works in an interesting way with such structure to it," said Gundapuneedi. "It's like a machine – someone says something, and she has an automatic response. What's cool about her is that she eventually learns she's not hindered by her autism, but actually helped by it. It's not something to be ashamed of; it makes her different, but in a good way.
"She also realizes it's what makes her who she is and even supports her goal of wanting to be an astronaut. For example, she likes colors and being alone. And she has such an eye for detail – which can be overwhelming – but also beneficial because she sees things other people might not notice."
Gundapuneedi loves playing Christina. "It's a unique experience to learn what life is like for other people – it's eye-opening and amazing. To prepare, we even observed some students in special-ed classes here. The whole show is told from her point of view and how she sees things."
Since the world in the show is built around the audience, Gundapuneedi said attendees "will feel like they're part of the action and what's happening onstage. I think they'll be on the edge of their seats, the whole time. Projections of places, lights, colors and words will pull them into Christina's emotions."
Wolff, a senior, said his 15-year-old character, Christopher, is "on the spectrum, but is also curious, passionate and really smart. When he's interested in something, he likes to dive in and learn all about it. But he's frightened by things he doesn't know or understand. For example, he doesn't know what it'll be like if people touch him, so that gives him anxiety and he doesn't want to be touched."
The story is set in 1998 England, and Wolff said Christopher's journey takes him out of his comfort zone. As he tries to solve the dog's murder, he also has to physically leave the only home he knows and travel to another city.
"I like playing him – it's a cool experience to look at a character from a different perspective," said Wolff. "To show his viewpoint, I have to physically and emotionally react in the moment to the other characters around me. I'm an anxious person, in general, so it's a great opportunity to put parts of my life into this character."
He said the audience will enjoy all the "interesting and exciting ensemble moments the actors create to make really nice stage pictures. It's also a stylized show, in that you're watching how Christopher perceives what's happening around him. So there are a lot of transitions between scenes, and they make the moments hit harder. People will be able to sympathize with and understand Christopher's perspective."
Portraying Christopher's father, Ed, is junior Will Sanfilippo. "He's hardworking and cares about his son, but gets frustrated when Christopher doesn't listen to him," said Sanfilippo. "And he doesn't always know how to deal with his own emotions or Christopher's."
"I love playing him because I've never before played a character with this much emotional depth," said Sanfilippo. "And it's a challenge to portray all his emotions at once, while trying to show the audience his struggles and poor choices."
He said the audience will love the show's pacing, "sometimes switching quickly back and forth between scenes, both related and unrelated. They'll also appreciate the ensemble's movement work and the choreography in their steps. And the set is unique because it has lots of moving parts; and sometimes, the characters become set pieces – such as a couch or a bed – themselves."
During rehearsals, sophomore Sarah Dodson is the stage manager. But during the show, she'll be in the control booth giving cues to the students in charge of the show's lights, sound and projections. It's an important job because the lights and sounds are visual cues for the actors, telling them when to move. And in this play, they're also part of the story.
"A lot of the sensory overload people with autism feel can be due to too much stimuli – lights, sounds or people," explained Dodson. "So I try to portray autism as how it really is, instead of a stereotyped version. I also enjoy doing this because I've learned so much about acting from being at rehearsals."
Calling it a "great show," she described it as "an adventure for Christopher, as he goes out on his own to find the dog's killer. And it's also a true look into how some people with autism live life and how they make it work. It dispels the notion that they aren't intelligent – they just process information differently."