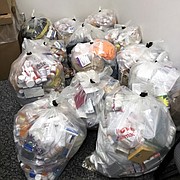 Fairfax County Police Department reported that the Drug Take Back Initiative was a huge success again this year: Fairfax County residents turned in a ton of medications – literally. More than 2,200 pounds of medications were collected at the events throughout the county.
BREAKDOWN:
West Springfield District Station – 473 pounds
McLean District Station – 351 pounds
Fair Oaks District Station – 297 pounds
Mason District Station – 279 pounds
Mount Vernon District Station – 247 pounds
Franconia District Station - 223 pounds
Reston District Station – 221 pounds
Sully District Station – 183 pounds
Total: 2,274 pounds
If you missed the event, you can still dispose of your unneeded medication at the drop box in the lobby of the West Springfield District Station (6140 Rolling Road in Springfield). It's open 24/7, and any unused prescriptions can be dropped off anonymously (pills or liquids only; no pressurized canisters or needles) – according to FCPD Media Relations Bureau.