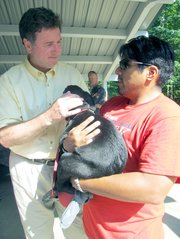 U.S. Senate candidate George Allen was energetic as he shook hands, posed for photos and made small talk with Republican supporters Saturday at Supervisor John Cook's 3rd annual Big Braddock BBQ for volunteers at Burke Lake Park.
The event, Allen's sixth and last campaign stop of the day, included political heavyweights such as former U.S. Rep. Tom Davis and Pat Mullins, chairman of the Republican Party of Virginia, in addition to more than 150 Fairfax County Republican volunteers.
On his way to the podium as the event's guest speaker, Allen chatted with dozens of volunteers, providing personal anecdotes and asking questions about their children, pets.
"Salami is a great name for a dog," Allen said to Jorge Reyna of Burke. "I love dogs, but we have three cats now. I don't think we'll be getting a dog for a while."
"I was a little surprised he spent so much time talking with everyone," Reyna said. "He seems to care about what people have to say."
The candidate, who is in a toss-up race with former Governor Timothy Kaine to fill Senator Jim Webb's vacant seat, joked that his goal was to personally meet every one of Virginia's 8 million voters.
When Allen eventually made his way to the podium, he delivered a folksy speech, sticking mostly to positive messages on affordable education, economic growth and energy independence.
"Susan and I live in Mount Vernon, and our three children attended Fairfax County Public Schools. We know how taxes, regulations, congested roads and fuel prices affect families and small businesses," Allen said. "Like many of you, we have a daughter who just graduated from college and is living back at home while she looks for a job." Allen then pointed out several children in the audience he met earlier at the event. "We have Reagan here, who wants to be a vet and Amity over here, with the butterfly wings, who wants to be an astronaut…The job situation for young people is discouraging. We want to make things better. We want to send the message that Virginia is open for business again, that America is open for business again."
Allen also rallied the volunteers, telling them each volunteer is worth 100 votes and stressing how pivotal Fairfax County and Virginia will be this election year.
"Virginia will determine the future of America," Allen said, "and the future is now."
The loudest applause came when Allen said he would like to unleash the state's energy potential by lifting restrictions on coal and natural gas. If elected, Allen said his first bill would be to allow Virginia to drill for oil and gas off its coast, and use the revenues to fund the state's roads and transportation needs.
"Energy matters. It's an issue that resonates with everyone," Allen said.
Both Kaine and Allen have ramped up their rallies and speaking engagements in Northern Virginia in the past few weeks. Political strategists on both sides agree that whoever wins the seat vacated by Webb will have a powerful voice in determining control of the Senate next year.