"There was Black Friday, and that's great for small businesses," said Braddock District supervisor John C. Cook. But, he continued, "This makes it a really nice day to celebrate small, independent businesses where you get a different shopping experience, an alternative to going to the malls."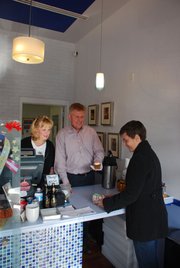 Cook was on hand to open the store and kick off the Fairfax Corner outdoor shopping center Small Business Saturday event, where merchants encouraged shoppers to support independently owned stores with discounts and special in-store events. SBS was started in 2010 by American Express as a nationwide promotion to energize small business.
To sweeten the deal in Fairfax Corner, ten other small businesses partnered with Cupcakes Actually gourmet "cupcakery" to offer a free cupcake as a gift with any purchase, all day long. Whether customers walked out with stylish table lamp from The Nest Egg or a handful of Montecristos from Cigar Town, they were guaranteed one of Cupcakes Actually's 60 varieties, such as their bestselling "Simply Red" red velvet or sinful signature "Actually Dipped" cupcake innovation.
AS HE HELPED SERVE up the sugar, Cook applauded the special day and hearkened back to the small-town values he grew up with in Delhi, N.Y.
"Small businesses tend to celebrate community events," Cook said. "That's part of the essence. You have the ability to do your own thing. They offer gifts that are special, different, that you can't find at a number of shops."
When Cupcakes Actually owner Susan Woodhouse of Centreville was approached about participating for the first time, she didn't have to think twice. "Why would I?" she said. "It's a win-win."
Woodhouse opened Cupcakes Actually in the spring of 2009, a major career and geographic shift from her previous life working for the court system in Detroit. A lifelong baker, it had also been her dream to move closer to friends and family in northern Virginia. Two years before the move, Woodhouse, her sister and other partners had a plan in place.
OPENING IN FAIRFAX just a year after the famous Georgetown Cupcake, Cupcakes Actually hit the market right as the mini cake boom was taking off, and became an established business in the community.
A healthy mix of walk-ins, regulars, corporate events, weddings and special orders keep the kitchen humming, cranking out roughly 3500 cupcakes -- priced $3.25-$3.95 each -- per week. Business was so good that Woodhouse opened a second location in Leesburg this past April, and the shop is set to appear on the Cooking Channel in February 2014 in a segment called "Unique Sweets."
For Woodhouse, the success obviously supports her livelihood, but she also values the shop's place in the community.
"People are very pro-small business," she said. "The big retail chains have taken over, but a lot of people will tell us they like going to support independently owned shops." Especially when there's a free gourmet cupcake waiting at the register.