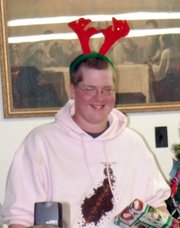 Ricky Rash, a self-proclaimed "country boy" and second generation Virginia dairy farmer, enjoyed his bucolic life in Nottoway County. He and his wife, Diane, a nurse, were content to raise their four children in the same house Rash grew up in.
The world of social media—Facebook, Tumblr, and Twitter—held little interest for the couple who considered faith and family the bedrock of their life.
But after their 15-year-old son committed suicide on Jan. 20, 2011, social media became their focus.

In trying to piece together why his oldest son, Eric, would take his life, Rash wanted access to his son's Facebook account. Citing privacy laws and their standard "terms of service" agreement, Facebook attorneys unequivocally said no.
Now, Rash is at the center of a battle against Facebook and other social media giants. He has become a vocal proponent of legislation giving parents access to their children's accounts if they die before they reach the age of 18. With the help of Del. David Bulova (D-37), he is winning the fight that could make Virginia one of the first states to enact such legislation.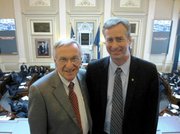 DESPITE CHALLENGES from Facebook, AOL, Google and other online providers—who sent representatives to Richmond to lobby against the legislation—a bill co-sponsored by Bulova and Del. Tommy Wright (R-Amelia) dealing with digital assets emerged from that state's House and Senate committees last week with unanimous bipartisan support. The bill is now headed to Governor Robert McDonnell's desk.
"We never dreamed we would have to get into these issues," Rash said during a phone interview Monday. "But it's imperative that parents understand that the Internet and social media have overreached in their privacy laws, and that we want to change that." Rash and Bulova have known each other for several years after meeting when both served on their respective district's Soil and Water Conservation boards.
"Over the summer, Ricky emailed me and described what happened," Bulova said. "As a parent, it struck a nerve. I thought 'how on earth would a parent not have access to that information when their child is a minor?'"
Bulova said the "digital assets bill," as it's known, is the piece of legislation that took up most of his time this session. He discovered that federal and state laws have not kept pace with the continually evolving world of social media, and case law addressing digital assets is scant and uneven.
A Vienna attorney familiar with trusts and estates law said current laws are intended to protect the privacy of the living, and those laws predate the rise of the commercial Internet.
In 1986, for example, Congress passed a law forbidding "consumer electronic communication companies" from disclosing content without its owner's consent or a court order.
The question of who controls or supervises online legacies is a "grey area" that lacks legal clarity.
While five states have passed laws addressing "digital assets," the legislation varies widely and it's largely untested. As a result, the Uniform Law Commission approved the formation of a committee in November to draft recommendations for state legislatures to follow regarding the rights of a survivor or fiduciary to access digital property after death.
But that type of standardized state legislation is years away, Bulova said, and—after discussions with AOL and Facebook—he believed Virginia could enact a state law that addressed the situation immediately.
"This would be tough to tackle, but one thing Facebook suggested is to plant the law on social media's 'terms of service' agreements, because it's contract law, which makes it under the purview of the state," Bulova said.
"Terms of Service" are the standard, non-negotiable contract terms which social media companies require all users to accept (with a mouse click) before accessing their sites.
Take Yahoo's terms of service agreement. In a pro forma statement regarding accessing digital accounts after death, it states:
"We are truly sorry for your loss. Unfortunately, U.S. federal law generally prohibits us from disclosing to any person the contents of another's account. Additionally, as stated in the Terms of Service, Yahoo! accounts and any contents therein are non-transferable including when the account holder is deceased. As a result, Yahoo! cannot provide passwords or access to deceased users' accounts or content, including email."
"Companies hide behind the "terms of service" agreements, because there's no updated law that counters it," Rash said. "As one of our legislators said, think of it like this: the Internet is the wilderness and social media is the wild, wild west. Parents need to tame it, and demand control."
DEL. DAVE ALBO (R-42), who is chair of the Courts Committee and heard testimony from Rash, recommended approval of the bill.
"Since we are talking about minors, they have fewer rights to privacy. So we thought it's not unreasonable to say that parents have the right to see Internet information if a child under the age of 18 dies," Albo said.
Bulova said the bill went through numerous committees, hearings and versions before four separate bills were narrowed down to two. He said the bill that is making its way to the governor's desk applies only to minors and could be applied retroactively if it becomes law on July 1.
While Ricky and Diane Rash may never be able to know why their son took his life, they said they are committed to fighting for parent's rights so others won't have to endure the same pain in their quest for answers.
"When I was at the scene where Eric took his life, crime scene investigators asked me a whole litany of questions, and I answered them," Rash said, pausing. "The one question I could not answer, 'do you have any idea why?'"

"Yes, it hurts each day no matter what," Rash said, recalling that Eric had told him he wanted to attend Harvard Law School. "He wanted people to know that not only liberals went to Harvard Law. I was just stunned thinking about the cost."
Rash said he and his wife are stronger in their faith and their relationship.
"We are blessed with three daughters, and crawling in bed and turning out the lights with the shades drawn was not an option," Rash said. "So we accept what we have and try to focus on future, not what may have been."