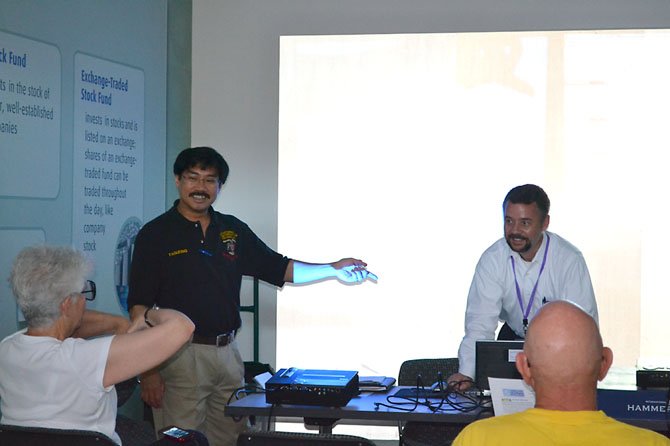 Braddock District residents were hit by a message as big as Facebook and as ubiquitous as the Internet itself. Their communities are embracing the virtual world to keep up with the actual one.
Supervisor John Cook (R-Braddock) hosted a seminar called "Community Communication in the Digital Age," which focused on the swiftly changing manner in which people interact with one another in their own neighborhoods. The meeting was held at the Junior Achievement Building in Fairfax, and began with Cook stressing how communication is key in the transition to the mobile world.
"You are my boss. I work for you," said Cook. "If I'm not doing something right, you've got to tell me."
FOLLOWING COOK'S OPENING REMARKS, Cliff Keenan of the District of Columbia Pretrial Services Agency, Kevin Joyce of the Ravensworth Farm Civic Association, and Derrick Chamlee of the Little Run Citizens Association each spoke on websites useful for connecting with people who live around the corner, such as nextdoor.com, Facebook and Twitter. While they extolled the benefits of sharing information quickly, Chamlee mentioned that one downside of online communication was that snide remarks can run rampant.
"Inflammatory or political [comments] get people's ire up," said Chamlee. "[Then] everybody's connected in a negative way. You've got to have a moderator on top of it."
The seminar speakers did not simply tell the attendees means in which to communicate to keep up with the times; they exemplified how to stay in touch with the modern world by demonstrating how the websites work on a large screen. After the opening discussion, there were four breakout sessions about learning the geographic layout of neighborhoods, using emergency management technology, using technology to support people's needs, and how to operate a smartphone or tablet.
One of the most popular breakout sessions was presented by Amy Carlini and Grace Lynch, who are both from the Department of Family Services. This session was about using technology for people's needs, and focused in particular on how the elderly can seek help online. Lynch discussed a phone number, which is broadly showcased on the Fairfax County website, that is a means for older people to find assistance.
"It's a delicate, highly nuanced kind of thing," said Lynch. "That's why we have professionals. You'll always get a human being [by] calling that phone."
THOSE WHO ATTENDED the meeting are eager to face the digitalizing world, and they appreciate Cook's interest in informing them of venues to communicate online. One participant was not even from the Braddock District, but attended anyway to gain the knowledge provided.
"I thought [the seminar] was great. [We're] trying to connect our neighborhood. The better we do that, the better they're going to be informed," said Greg Crider, an interested citizen from Mount Vernon.
Crider was not the only one who enjoyed the seminar. Linda Schlekau, branch manager of the Burke Centre Library, believes that meetings like this help expel fear in those who may be hesitant to embrace the technological era.
"It's almost inevitable," said Schlekau. "You have to know how to connect. Otherwise, you'd be left in the dark."