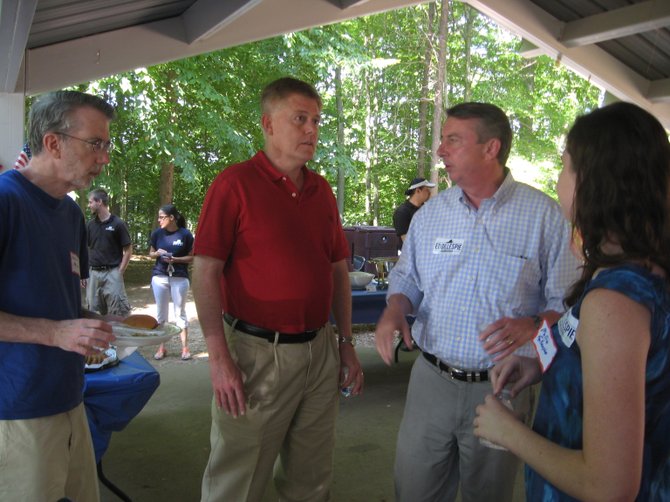 U.S. Senate Candidate Ed Gillespie and Virginia 11th Congressional District candidate Suzanne Scholte found themselves on the receiving end of public grilling Sunday: they, along with several dozen local citizens, enjoyed an array of grilled dishes together at Supervisor John Cook's fourth Annual Big Braddock BBQ at Burke Lake Park.
"We try to do this every year, to get our team together and have a social occasion, and we talk about whichever election is coming up and try to get the candidates here," Cook said. "The folks here tend to be the ones that do the legwork in campaigns, so we want to try to inspire them to come out and support the ticket in the fall, and stay as part of the team."
Gillespie said, as a Fairfax Country resident, as well as a friend and supporter of Cook, he was happy to attend his BBQ to support him in return. He said his hope for the event was to address the economic portion of his platform with attendees.
"I've unveiled a five-point agenda for economic growth, creating jobs, raising take-home pay, holding down health care costs and reducing energy prices," Gillespie said. "Everywhere I go in the Commonwealth, I find that people are concerned about the direction of the country, with the lack of jobs and higher prices, and we've got policies that would address that; I think that will resonate here today."
Scholte said she attended the BBQ because she believes Cook to be "the epitome of a public servant," and wished to support him while promoting her run for the 11th District Congressional seat.
"My whole life has been devoted to working with people across party lines and to advance principles through democracy; all the work I've done in promoting freedom and democracy, I've always worked with Republicans, Democrats and Independents, which is why I have Democrats supporting me, actually," Scholte said. "I'm really concerned about the problems the country is facing right now; we need to be working together, and there's such partisanship in Washington right now that really harms us. That's one of the reasons I'm running: I can bring people together."