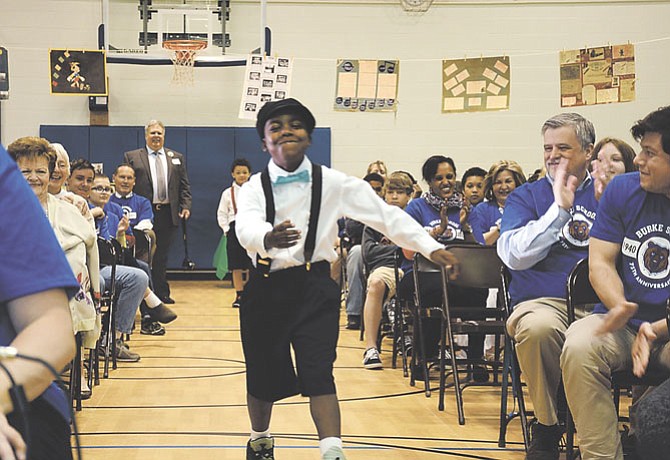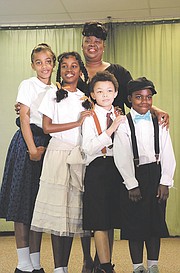 Virginia Lee Fowler Hyer is the oldest of seven girls who used to live in the "top of the hill" home now referred to as the Silas Burke House. She attended Burke School from 1944 through 1949 and on April 23, crossed the building's threshold again to witness a program celebrating its 75th anniversary.
"It was fantastic, the program was so well done," Fowler Hyer, a former Fairfax County Public Schools teacher, said. "The students were amazing, the way they were involved."
The morning's program featured speeches from Supervisors Pat Herrity (R-Springfield) and John Cook (R-Braddock), a history lesson from Col. Silas Burke himself (alter-identity of Jon Vrana, president of the Burke Historical Society), a fashion show where current students modeled school fashions from previous decades, and a presentation of items to go in the school's time capsule.
An audience of current students, former students and community members were shown an historical film about the history of Burke School, followed by a documentary-style short depicting modern students working on a variety of arts and science projects.
Fowler Hyer was especially appreciative of the modern short film, including "the age-appropriate projects the students were doing -- hands-on, occupational work."
While the Burke School at one time served only the Burke community, it's now a regional special education center with a population of 130 students in sixth, seventh and eighth grade from across the county, as well as 30 elementary-age students in an Alternative Learning Center.
"It's great for the kids that need the attention," said Burke resident Carl Reno. Reno attended Burke School from first through seventh grades, beginning in 1949.
"It moves me to see how connected everyone in the community still is in this school," principal Frank A. Tranfa, Jr., said during the program.