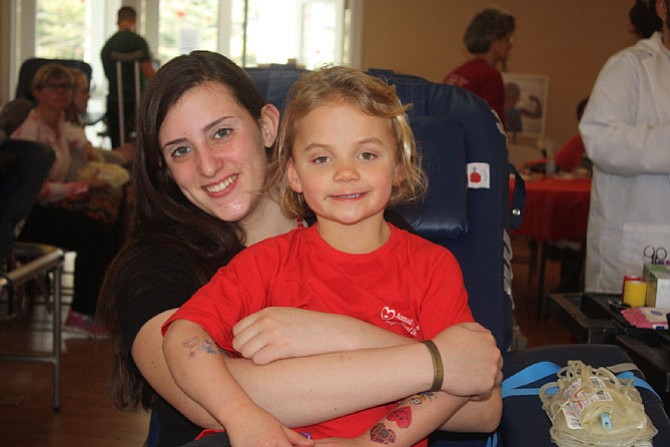 For the sixth year in a row, Burke resident Amy Dozier celebrated Valentine's Day by helping manage a blood drive. Her daughter Madeline, barely a tween for the first Friends of Sadie drive in 2010, is now a 16-year-old sophomore at Robinson Secondary School. She's old enough to drive and old enough to donate blood for the first time.
With the drive's namesake Sadie Lauer of Burke by her side, Madeline reclined in a deep blue medical cot and prepared for her donation. The same generosity helped save Lauer's life after she was diagnosed with neuroblastoma. At 3 months old, she had a cancerous mass buried deep in her neck.
Friends of the Lauer family got together and rallied other members of the community to donate blood for Sadie so she would have ample supply banked as she underwent surgeries to remove the mass.
When the seven neighborhood mothers, the "Friends of Sadie," saw how effectively they were able to bring people out to donate, they decided to make the drive an annual event in Burke. Sadie's cancer is now in remission, but on Feb. 8, the sixth Friends of Sadie Blood Drive drew 205 donors through the doors of The Woods community center.
With over 30 staff members from Inova Blood Donor services and 45 community volunteers on hand to help manage registration, recovery and child care, the drive yielded 216 units of blood products (red blood cells, plasma and platelets).
"That's 639 people we helped by products we put on the shelf," said Amy Dozier, referring to the general formula from blood services that each unit (roughly one pint) of blood product can go to serve three people.
THE NUMBERS were down slightly from 2014's 245 units. Dozier attributed the decrease to the day's unseasonably warm temperature and sunshine. Windows were open all day at the community center during the drive, ushering in a comfortable breeze uncommon for around Valentine's Day.
"Next year we'll do better," said Dozier, "because we'll actually be on Valentine's Day." The first drive happened on the romantic holiday as it was the only day available for all the donors to come.
"Every year we have this wonderful opportunity to reflect on what is important: This is what Valentine's Day means to us now," said Sadie's mother Erin Lauer.
Even though Sadie's cancer is in remission, the drive continues year after year, having taken on another mission of raising awareness of childhood cancer.
"There's such dedication and passion," Lauer continued, "almost like they're doing it because one of their own has experienced cancer. That's the real story, the way they've created this community that cares."
Supervisor John Cook (R-Braddock) came out to support the event, his fifth year in a row. "It's great to see the community come together for a cause," he said. "This is what can happen when people step up."
In addition to the blood donations, money from a bake sale and donation containers went to benefit The Truth 365, a collaborative organization using documentary and social media to help raise awareness of childhood cancer.
Television producer Mike Gillette of Ashburn helps run The Truth 365 along with Arms Wide Open Childhood Cancer Foundation (AWOCCF), Frankie's Mission, Journey 4 A Cure, The Rally Foundation and Band of Parents.
In between photographing the blood drive, Gillette said The Truth 365 is trying to bring about a national movement, similar to the one for breast cancer, to raise awareness and funding for better treatments and cures for childhood cancer.
"Children with cancer represent only about four percent of the federal government's budget for cancer research," said Gillette. "This event raises so much awareness. Children with cancer desperately need blood and to cover two issues like this, both are so important."
MORE INFORMATION on Friends of Sadie and The Truth 365 can be found on their websites: www.friendsofsadie.org and www.thetruth365.org. For those who weren't able to donate on Feb. 8, another drive will be held as part of the Burke Racquet & Swim Club 25th anniversary health fair on March 14. For more information, call 703-250-1299 or visit www.burkeclub.com.