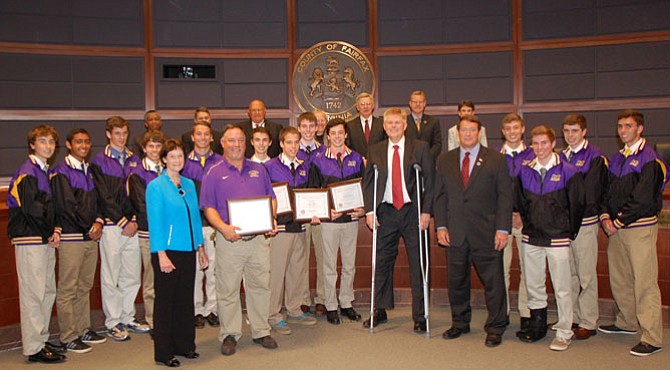 The state championship rings won by Lake Braddock Secondary School's boys cross country team are engraved with: "Fastest ever."
"They earned that title," said their coach Michael Mangan. "And they worked very hard to get here."
The boys team ran the fastest average time in the history of the state meet, Mangan said, following up similar statistics in regional meets as well as individual accomplishments.
"Cross country is not a sport, especially on the boys side, when you show up on day one and you're in front," said Mangan. "It takes a lot of work to get yourself there."
Supervisors John C. Cook (R-Braddock) and Pat Herrity (R-Springfield) honored the boys team at the Board of Supervisors hearing at the Fairfax County Government Center on June 2.
"This team is a phenomenal team," said Cook. "The program year after year after year after year comes out on the top."
Cook said he has honored the team five times in the six years he has served as a Supervisor.
"That says something about the spirit of the program, each generation passes on to the next," he said, adding that the team comprises "stellar students as well" who have an average grade point average of 3.95.
"A couple of points behind the girls, just to put that in there," said Cook.
"I want to echo my congratulations," said Herrity. "It takes a lot of hard work, training, dedication and teamwork to win a state championship.
"I think I would be remiss if I didn't mention that 60 percent of Lake Braddock students live in Springfield [District]," said Herrity, who is the Springfield District supervisor. "Close behind them was West Springfield, and close behind them was Chantilly … which makes Springfield clearly the fastest district in the county."
Coach Mangan said they are also a great group of people. "They are a team that takes care of their younger ones."
The athletes that attended the ceremony Tuesday represented all 72 boys in the cross country and track programs and all 72 girls as well, said Mangan.
Supervisor Cook read numerous team and individual accomplishments from the school year.
"I have admiration for cross country. It is a great sport, and running is a sport and activity that you do can do your entire life," said Chairman Sharon Bulova. "Thank you for making us proud. Some pretty impressive statistics that we just heard."