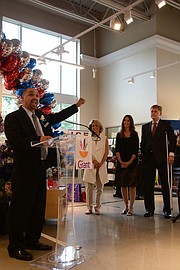 Kings Park-area residents have been waiting for the return of their neighborhood grocery store. "The neighborhood has been buzzing for months," supervisor John Cook (R-Braddock) said before the ribbon-cutting ceremony for the new Giant Food grocery store at Kings Park Shopping Center.
The new 50,000-square-foot store is twice the size of the one it replaced. The total demolition and brand new construction project are one of several improvements taking place in the area.
"Things are happening, infrastructure is being updated," said Cook. "There's a sense of progress, that things are moving."
Store manager Scott Belcher is excited about the high level of in-store technology. That includes storewide free WiFi, handheld "Scan It" devices that allow customers to begin checking out while they navigate the store. "Weigh It" is another time-saving feature processes where customers tag produce with a barcode before checking out; with "Order It" shoppers can have food prepared ahead of time in the made-to-order deli for a more speedy pickup.
But perhaps the store's most impressive technology feature is the use of carbon dioxide refrigerants in its produce and cold sections -- the first store in the mid-Atlantic region to do so. According to Giant, this system should reduce their greenhouse gas emissions by 948,150 pounds of carbon dioxide equivalent per year, or a third of of most supermarkets.
"This is part of our commitment to help out our environment," said Belcher.
The new Giant is in the process of obtaining Leadership in Energy and Environmental Design certification from the U.S. Green Building Council.