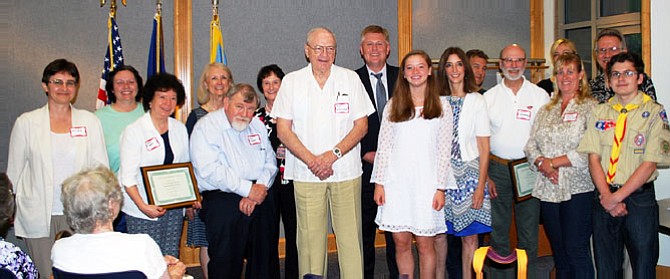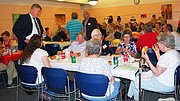 Local outstanding citizens, organizations and businesses were recognized by the Braddock District Council of Community Associations and Braddock District Supervisor program with the annual Best of Braddock Awards.
The winners were chosen based on their contributions to the District's welfare, beauty and strength, a release from the Supervisor John Cook's (R-Braddock) office said.
This year's Best of Braddock awards were held Wednesday, July 13. A picnic dinner in the Kings Park Library meeting room was followed by a ceremony held in Braddock Hall.
The 2016 honorees, courtesy of Supervisor Cook:
Citizens of the Year
Casey McCollum
Olde Forge/Surrey Square CA and A Forever Home Rescue Foundation
Casey has worked with the local rescue group, A Forever Home Rescue Foundation, fostering dogs. She fosters dogs that are rescued from hoarding situations or puppy mills, and helps them recover on their way to finding permanent homes.
Glen Erickson-Bell
Chapel Hill CA and Friends of Oak Hill Park
Glen Erickson-Bell has worked to take great care of Oak Hill Park, a ten-acre park located just north of Braddock Road, performing minor cleanup and maintenance tasks. He enlisted members of Friends of Lake Accotink Creek to help improve the park as much as possible.
Club or Organization
Holy Spirit Catholic Church Transportation Ministry
The Transportation Ministry at Holy Spirit Church works to help those who need rides to medical appointments or procedures, and provides a much needed service to the community.
Boy Scout Troop 1965 of the Lake Braddock Community
Boy Scout Troop 1965 is very active and consists of involved members of the Braddock District. Scouts perform numerous service projects in and around the Lake Braddock Community every year, and routinely contribute to local assistance programs in the County.
Staff, Volunteers and Friends of Kings Park Library
The staff, volunteers and Friends of Kings Park Library have worked diligently to meet the tremendous demand for the library from residents, and have encouraged the use of this critical resource throughout the community.
Friends of Oak Hill Park
The Friends of Oak Hill Park work to bring together bordering communities for a collaborative support effort. The Friends of Oak Hill Park have participated in the Braddock District Wide Accotink and Pohick Watershed Clean Up.
Young Person of the Year
Bonnibelle Bishop
Olde Forge/Surrey Square CA and Woodson HS
Bonnie is a rising sophomore at Woodson High School and has been involved in community service since her elementary school days when she participated in Laps for Learning every year. She has participated in events for the Tragedy Assistance Program for Survivors (TAPS) - a support program for teens who have lost a parent during the Iraq and Afghanistan wars.
Special Recognition
Paula McKinley
Olde Forge/Surrey Square CA
Paula McKinley has led the Olde Forge/Surrey Square effort to recognize neighborhood veterans and active duty service members on multiple occasions.
Ron Luxenburg
Lake Braddock
Ron Luxenburg, aside from being a friendly, happy neighbor, has used his snow plow to clear his neighbors' driveways and walkways, a generous act of selflessness.
Don Wallace
Don Wallace sings with the Wakefield Chorale, is a reader with Read Across America, cooks for the Little River UCC Friday Night Out program, and serves on the board of Food for Others.