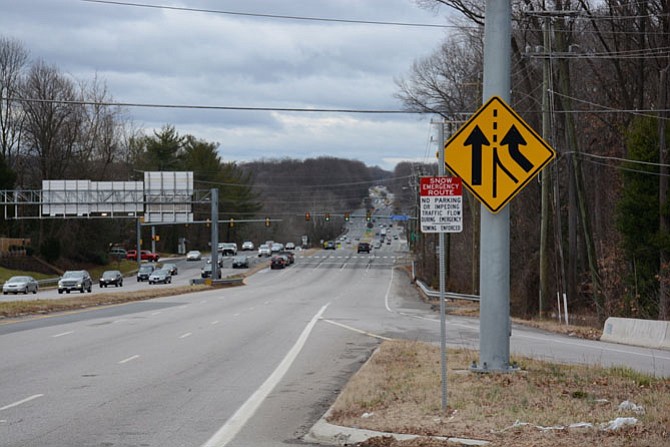 Next month, residents will hear an update on the status of the Braddock Road Multimodal Study. The purpose of the study is to examine ways to relieve traffic congestion along the major corridor from Guinea Road to the Beltway. Those could include intersection improvements, lane additions, pedestrian improvements, "and the issue of whether or not to do a transit center," said supervisor John Cook (R-Braddock).
Cook previously formed a Braddock Road Task Force citizen council to give input and review these potential improvements to the corridor. Recommendations from the task force will also be presented at the Feb. 6 community meeting, scheduled from 6:30 p.m. to 9 p.m. in the Lake Braddock Secondary School cafeteria.
"The study shows some pretty significant improvements coming from what are fairly modest improvements," Cook said.
Some of the options being looked at include a series of intersection improvements from Guinea to the Beltway, making some of those right in-right out and taking out the traffic light at Kings Park Drive.
"The question is, by adding HOV or a general purpose lane, does that help more?" said Cook. "We'll be talking about that in the February meeting."
Addressing congestion is hardly limited to that stretch of Braddock Road. Supervisor Pat Herrity (R-Springfield) said there are plans to "turn dirt" on expanding the capacity of I-66 this year, which he calls "big news for the west end of my district for sure."
Part of the Fairfax County Parkway is due to be widened, as well on Rolling Road.
Even in Clifton, which Mayor Bill Holloway said has been a victim to some extent of its own success in attracting more visitors and shoppers, is looking at redesigning the scape of its historic Main Street.
"People are there all the time, weekends, evenings -- it's looking like a beach town without the beach," Holloway said. "It's really heartening to me to see it's so alive."
Unique to Clifton, they hope to slow down traffic and improve safety through town, improving pedestrian and parking issues as part of managing an expanded capacity.
Ed Zolnik, an associate professor in the George Mason University Schar School of Policy and Government, said these projects for increasing capacity without adding new roads are nothing new.
"Widening seen as more immediate," Zolnik said, "to add more capacity, which is necessary, with most people making their trips in a private vehicle."
Though Zolnik said the Braddock Road multimodal study is on-trend with urban planning that's attempting to provide mass transit alternatives to individual vehicles, building new roads and expanding existing ones is unavoidable.
"From a public purpose perspective, it's what we encounter on a daily basis," he said, "everyone sees that."
And with expanding capacity, Zolnik said the cynical planning viewpoint is that solution to congestion is antiquated, though "there's an immediacy to this kind of problem."
"Just using the argument 'We have to reduce congestion,' it's a vicious cycle," he said, "as it could engender much more congestion going forward."
Working on a multimodal solution is consistent with how transit planning has evolved, the professor said. And as more transportation choices are offered in the Braddock Road corridor and other roadways around Fairfax County, it should help mitigate the ultimate limitations of the roadways for private vehicles.
"People are adapting to the environment they're in, as much as imposing their will," Zolnik said. "This is not new, but there's a long timespan this takes to get online, operating."
The Braddock Road community meeting is scheduled for Feb. 6 from 6:30 to 9 p.m.in the cafeteria of Lake Braddock Secondary School. At 6:30, attendees can direct questions to Fairfax County Department of Transportation (FCDOT) staff and review information at various stations. At 7:30, attendees will hear recommendations from the Braddock Road Task Force.