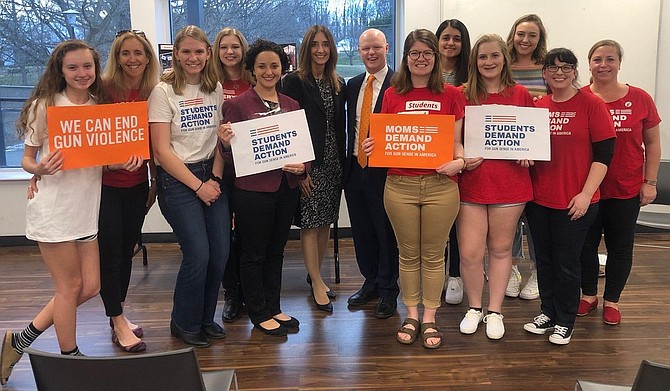 On Thursday, March 14, the Northern Virginia Chapter of Students Demand Action held a meeting, but this was not a typical gathering for the organization. SDA was also marking the one year anniversary of the student walkouts after the massacre at Marjory Stoneman Douglas High School in Parkland, Fla. To commemorate this occasion, the NoVA chapter of SDA was joined by several elected officials, including Virginia House Democratic Leader Eileen Filler-Corn, Del. Kathy Tran and Fairfax County School Board Members Dalia Palchik and Ryan McElveen.
"These students give me so much hope for our future," said Filler-Corn, who has spent years both as an elected official and private citizen advocating for gun safety legislation. "I know that with their leadership, we can make Virginia and the country as a whole, a safer place."
Last year, the House Democratic Caucus established the Safe Virginia Initiative (co-chaired by Delegates Filler-Corn and Murphy), a task force established by the Virginia House Democratic Caucus which addresses gun safety and focuses on gun violence prevention. SVI held a variety of events across the Commonwealth on these issues and later issued a report with their findings and suggested policy solutions, many of which became legislation that was introduced in 2019 session. Unfortunately, none of the bills made it out of subcommittee.