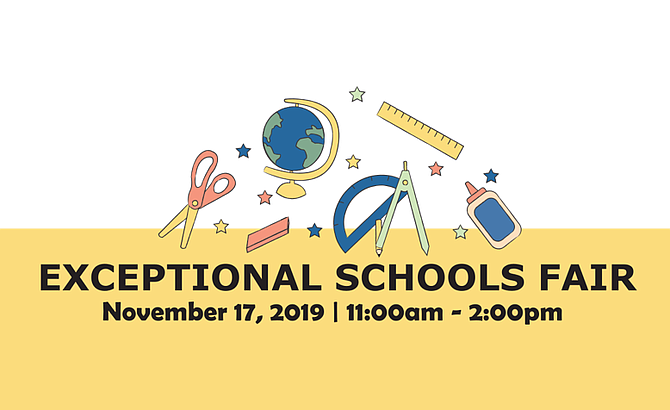 13th Annual Fair
Sunday, November 17th, 11 am – 2 pm
FREE and OPEN to the PUBLIC
Katzen Arts Center – American University @ Ward Circle – Massachusetts & Nebraska Ave. NW
Showcasing the many wonderful school choices available to families of children with diverse learning needs. Find out about individualized programs that will help your child thrive both academically and socially.
Exceptional Schools Fair 2019
From mild language-based learning differences to more severe cognitive disabilities, educators and parents must be informed on how best to educate students across a wide spectrum of impairments. The Exceptional Schools Fair showcases schools and programs that ensure every child receives an exceptional education. With offerings that range from private day schools to therapeutic services, we aim to equip families and educators with the supports and interventions students need to succeed. Please take a few moments to explore our website at exceptionalschoolsfair.com to learn more about how the fair can help you secure and channel resources to support the unique learning needs of every student.
Providing for the following services:
▪ ADHD
▪ Autism
▪ Deaf
▪ Developmental disability
▪ Dyslexia
▪ Emotional disability
▪ Gifted
▪ Hearing impairment
▪ Intellectual disability
▪ Orthopedic impairments
▪ Other health impairments
▪ Specific learning disabilities
▪ Speech or language impairment
▪ Traumatic Brain Injury
▪ Visual impairment
---
Preview the Participating Schools here.
Location : Katzen Art Center, Massachusetts Ave and Nebraska Ave NW
FREE Parking
Directions available here.
For more information, please contact Erin Lidz at exceptionalschoolsfair@gmail.com.