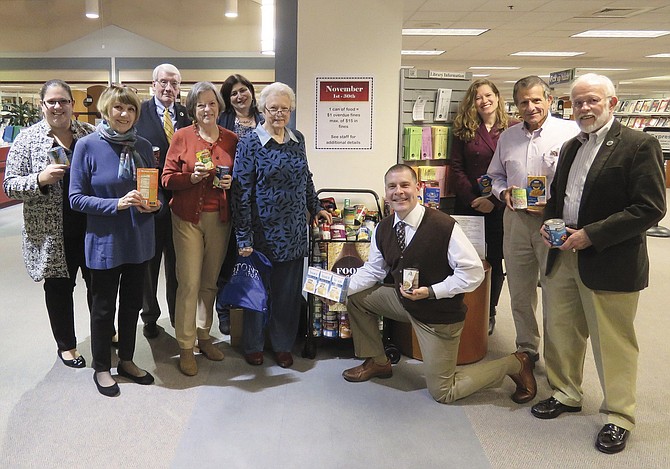 In the aftermath of public concern following comments made by appointed Trustee Phillip Rosenthal (Springfield District) during the July 29 public meeting of the Fairfax County Library Board of Trustees, NOVA Equity Agenda Coalition sent a letter on Aug. 20 to Jeffrey McKay, Chairman of the Fairfax County Board of Supervisors and Fran Millhouser, Chair of the Fairfax County Library Board of Trustees. In the letter, the twenty-seven signatory organizations, unions and faith-based groups called on the Fairfax County Library Board of Trustees and Board of Supervisors to initiate steps to have Rosenthal removed from the board after he "made unmistakenly racist, homophobic, anti-Semitic, and anti-Islamic comments while criticizing the County's attempts to promote inclusion in its library catalog." They also called on both bodies "to formally and publicly condemn Mr. Rosenthal's statements."
In the first lines of his statement, https://youtu.be/YQvU2CvpGUI?t=5793, just shy of five minutes in length presented during the roundtable section of the July 29 public meeting of the Fairfax County Library Board of Trustees, Rosenthal said, "What I'm going to say is what I think it's not what my Supervisor thinks. Secondly, if you came to my office, 65 percent of my employees are African American...So, I'm not a racist." Rosenthal said he went on the library website and looked at the catalogs and the books offered. "As a Trustee, I'm appalled at what we are presenting to the public in today's time."
Rosenthal asked why the Library highlighted books by Muslim writers. "I don't really have an issue...with books by Muslim writers, but why don't we have books by Catholic writers, or Mormon, or Jewish writers, or Baptist writers." Rosenthal questioned books by Patrisse Khan-Cullors. "She's a Marxist...She is one of the founders of Black Lives Matter. She's anti-Semitic. Their policy is BDS, Boycott, Divestment, Sanctions against Israel." Rosenthal inquired about documentaries on Black Lives Matter. "Why don't we have some white lives documentaries," he asked. Rosenthal questioned the "Rainbow Books" series for youth. They feature LGBTQIA+ characters. "I don't know what we're going to encourage our young readers to do," he said. "We're promoting these kinds of books for our public to read. To me, this is not proper...If we're going to put those in, there ought to be some books to tell the other side. We're changing the history of America here, and the Library which is supposed to be non-partial is doing it. And we're right behind with it," said Rosenthal. He proposed a meeting "for somewhere (and) somebody starts reviewing what we're putting out there for people in this country to read."
Trustee Darren Ewing (Dranesville District) said, "To hide behind increased interest is solely inaccurate. If you go on the catalog homepage it is social justice, and there is nothing wrong with social justice, but you have to put it in within a framework."
RESPONSE BY THE COMMUNITY, while slow initially, ticked up the following week and into the next. In an online "Letter to the Public Regarding the July 29 Library Board Meeting from the Library Board Chair," Fran Millhouser (Mason District) said that she took her role and responsibilities "very seriously." She said that after the subsequent posting of the meeting video on Aug. 3, she received "many emails voicing public concern for statements made during that July meeting." She added, "I do not take your comments lightly and am setting up our next meeting, scheduled for Wednesday, Sept. 9 at 7 p.m. via Zoom, to allow for ample time for a presentation and Board discussion on the topics raised around the Library's curated collections." She said there would be time for additional discourse by Trustees and any potential motions or action items if needed. Millhouser ended her letter as follows: "Fairfax County's One Fairfax policy on social and racial equity remains a guiding statement for the Library, as well as its own collection development policy, which affirms the American Library Association's Freedom to Read statement."
In the Coalition's letter to Millhouser and McKay, the signatories said Rosenthal's statements were "antithetical to the inclusive values expressed in the One Fairfax Resolution." "By making those statements, Rosenthal demonstrated that he does not agree with the library policies intended to promote equity, and therefore cannot be trusted to uphold his position." Beyond steps to remove Rosenthal from the office, the Coalition urged the Board of Supervisors to "take deliberate steps to diversify the FCPL Board of Trustees to help ensure diverse viewpoints and interests are better represented."
Chairman Jeffrey McKay, Fairfax County Board of Supervisors, said that Rosenthal's statements did not align with Fairfax County's equity and inclusion principles and failed to recognize a key aspect of County libraries' duty to its citizens. "As centers for information and education for all members of our society, our libraries play a unique role in providing community members access to the perspectives and real-lived experiences of those too often shut out from history. It is important now more than ever that we uplift the voices of underprivileged and underrepresented persons in our society. To continue to neglect these voices would be a disservice to ourselves and community as a whole." McKay added that for his appointees, he was committed to improving diversity across all boards when vacancies become available, "to represent the voices of everyone who makes Fairfax County so great."
Supervisor John Foust (D-Dranesville District) said,"Mr. Rosenthal's comments were offensive and inappropriate, and I am sure many county residents also found them to be very painful. I was also surprised and disappointed that he seemed to advocate for censorship of certain subjects or authors. His comments were made while serving in his official capacity as an appointed representative of our community. The message he delivered was exactly opposite of what should be, and I believe are, the values of our community."
Supervisor Pat Herrity (R-Springfield District), who nominated Rosenthal to represent the Springfield District as a Trustee, said that his office had received feedback that supported their appointees' views. He said, "I have always believed that open honest discussion gets us to better answers." Herrity said that he found it interesting that "several other trustees agreed there was a need for further discussion and possible action to have the website present a diversity of opinions."
"The Public Library is one of the most important institutions in our democracy. For that reason, it is especially important that it offers a balance of viewpoints to remain neutral and nonpartisan in representing many ideologies, religions, ethnicities, and stories. I look forward to seeing how the Library Board of Trustees works to more holistically encourage diversity of thought for readers in Fairfax County," Herrity said.
ON FRIDAY, AUG. 21, Rosenthal said, "My intent in my remarks was when we feature books there is to be balance, both sides of what they are trying to say…The one that I think caused the most turmoil was they used the word systemic racism in America; and to me by highlighting that topic, it shows one side of the story... You know, I'm not trying to censor any side of the issue. But you know, why in America, and maybe people differ with me, why in America do we feature books by people who advocate the violent overthrow of our government." According to Rosenthal, if he had known his remarks would cause "so much turmoil," he would have had them edited because his comments were spontaneous to what he personally saw and perceived. "I was putting a little more conservative tint to it and that's what got me into all this hot water… I'm sorry I offended a bunch of people… I hope that as we move forward since my remarks caused a disruption in the process, that there will be thought put into books that have a balance on both sides of the issue.. not only push a particular point of view." he said.
The Fairfax County Public Library Board of Trustees is responsible for library policies and for making budget recommendations to the Board of Supervisors. The 12-member volunteer Board comprises one member from each of the nine supervisory districts in Fairfax County, each appointed by the district supervisor; one member-at-large, approved by the Chairman of the Board; one member appointed by the City of Fairfax Council; and one member nominated by the School Board. The Library Board of Trustees meets on the second Wednesday of each month except August. Most meetings are held at 7 p.m. at George Mason Regional Library. The public and press are invited to attend. A maximum of ten people may register to speak on library concerns during the public comment period at each monthly meeting. For information or to register to speak, call (703) 324-8324. Library Board of Trustees Policy Manual
Highlights of Public Comments
The following is a sampling of records held and released upon request by the Office of the Chair of the Fairfax County Library Board regarding Trustee Rosenthal's views.

Jonathan Whetler: Why don't we promote white lives matter? Throw a stone at any shelf in the library and you'll find books and movies about white Americans. Why don't we have non-"rainbow" books? Point to a random shelf and you'll find books about heterosexual characters. The numbers of these far outweigh any other titles that have more diverse characters, plots, settings, and themes. He's not only thoroughly misunderstanding the zeitgeist of the nation, he is adamantly clinging to a racist, homophobic, entitled, privileged perspective that is not only outdated, ignorant, and cruel, but also dangerous.
Kathy Smerke, Fairfax: I personally have been very pleased that the library has provided recommendations for resources to put on hold for all ages during these tumultuous times in our country, and I applaud the library for intentionally putting diverse voices on display. I am particularly concerned with Mr. Rosenthal's request to display books on "both sides of these issues" as I would certainly be appalled to log into the library homepage to find white pride literature, conversion therapy information or literature advocating a return to pre-Civil Rights era treatment of black people in this country.

Ian Hochberg: Phillip Rosenthal's remarks about not being racist because he has employed black people were dangerous. His further desire to represent "both sides" on race issues is inaccurate and a form of "gatekeeping" by empowered white people. There are not "two sides" to anti-racism… In a county in which 50.1 percent of its residents are white, meaning almost half are BIPOC (black, indigenous, people of color), it is even more necessary that literature represent and affirm BIPOC. I find it alarming that the composition of the library board of trustees is overwhelmingly white. I recommend that the board make diversity of composition its number one priority and that it seek training on anti-racism and unconscious bias.
Eileen Evon: Although the library has an established mechanism for patron concerns about the library collection, Mr. Rosenthal chose to use this public meeting as a platform to air what appeared to be his personal grievances. Mr. Rosenthal's statements contradicted Library policies, and disparaged the needs and concerns of the community he was appointed to serve. Because he asserted these remarks represent his opinion "as a Trustee," the Board and the County should officially address Mr. Rosenthal's public statement. Furthermore, all Trustees should be required to review the Library's governing policies, and examine their commitment to them… Trustees represent the interests of Fairfax County citizens as a whole. If Mr. Rosenthal feels his personal beliefs conflict with the inclusive values of the Library, he may wish to resign, or Mr. Herrity may want to reconsider his appointment. As a private citizen and patron, Mr. Rosenthal will always be free to check out and explore the books and materials which best match his personal preferences. The library is for him, as much as it is for every other person in Fairfax County.
David Pimentel, Fairfax: I ask that you consider initiating two motions at the next Board meeting: (1) Amend the Board's Policy Regarding Selection Of Materials, section 5, to explicitly clarify "Different viewpoints on controversial issues may be acquired AND PROMOTED..."(2) Vote of "No Confidence" in Rosenthal serving as a member of the Board. No literate American (in 2020!) should be unfamiliar with the concrete realities of systemic racism and other forms of structural oppression. The fact that Mr. Rosenthal objects to the library highlighting these important societal problems is truly appalling.
Sujatha Hampton @SujathaHampton tweeted:
"This man doesn't understand what libraries are about. And he doesn't seem to understand what books are for. If he read any of the books on the list he's waving around, he would learn all the answers to the questions he's asking. @FairfaxNAACP I think it's time to organize.