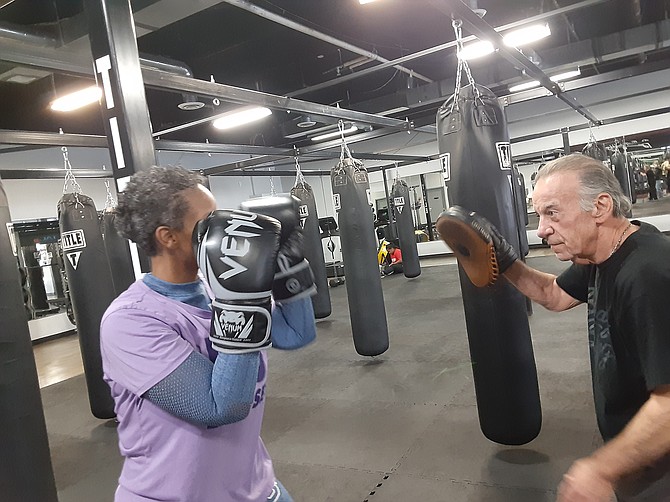 Floating like a butterfly and stinging like a bee was Mohammed Ali's mantra to capture the heavyweight title back in the 1970s and it's still alive
today at the Title Boxing Club in Springfield where all the floating and stinging is burning calories, improving the posture and instilling confidence without bloodying any noses.
"It's the best workout in the world," said Tommy "the hammer" Coelho, an employee of the club that runs around with sparring mitts, giving pointers on landing that jab. "Absolute total full body workout," he said.
LaToya Spencer from Alexandria agreed, as she cooled off after a session. The workouts are divided into an eight-round program led by an announcer, similar to the aerobics classes that attract many. "I love it, a good workout," Spencer said. Aicha Jaani was also in the class. "Helps with your anger, any issues," she said.
The Title Boxing Club is in a shopping center right off Rolling Road next to the West Springfield Police Station, and the inside if full of punching bags, a mini boxing ring, weights, a locker area and a little store where there are sweats, tee-shirts and boxing gloves in the 12-18 ounce size for the punching bag workouts. In the ring, a boxer would wear 10-12 ounce gloves, and the mixed martial arts (MMA) uses four ounce gloves.
Even with all this boxing and punches being thrown, there is no actual fighting between participants, it's all about working up a sweat, ducking and weaving for upper body strength. MMA uses a lot of kicks, where boxing is mainly concentrating on the punches.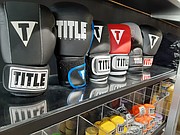 Some of the punching does bring fighting into the picture too. A little bit rubs off on anyone that's gone through the class. "You learn self-defense, you'll learn the basics here in self-defense," said Jacob Scharf, the general manager. Coelho noted the stance they teach for landing the punch, and noted how he saw it recently when there was an incident in the parking lot and one of the men shifted his weight onto the back foot.
"Somebody's going to get hit," Coelho said.
Coelho's boxing knowledge goes back to when he started boxing at age 10 in Oakland, Calif. He was a three-time Golden Glove State Champion, and rose to the top in the Air Force boxing program out in the South Pacific. In addition, he was a three-time National Roller Speed Skating Champion.
The West Springfield location is one of several in the Northern Virginia area. Others are located in Fairfax, Falls Church, and Ashburn. Our exercise classes engage the body, mind and spirit by channeling the fundamentals of a true boxer's workout, it says on the website.
Michael Carson, a local MMA pro, has worked out at the Springfield club before.
More like this story