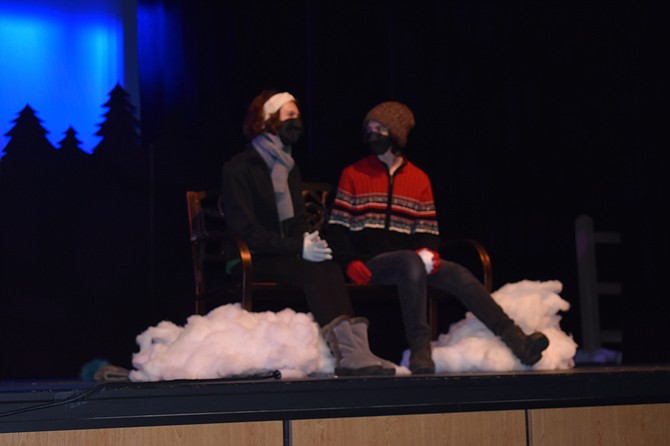 Here is a Cappies review of the performance of Almost, Maine at West Springfield HS on Friday, 11/19/2021.
A shoe falls from the sky, hitting the stage with a significant thunk. An ironing board swings in slow motion at a person's head. Two men collapse to the ground over and over again. This is just another evening in the town of Almost, as depicted by Spartan Theatre's heartwarming production of "Almost, Maine."
John Cariani's "Almost, Maine" is a series of two person vignettes all set at the same time on a Friday night in the titular far north small town. They center around romance and connection, examining the topic from all angles, and are threaded with magical realism. The show ran Off-Broadway in 2006 at the Daryl Roth Theatre, before going on to have a huge life in community and educational theatre.
Every member of this cast presented engaging performances. Their nuance and heart were moving and genuine. The complicated dialogue in the script often called for the actors to speak over one another, and they executed this with a skill that made the scenes feel alive and unscripted.  The performances simply seemed natural; the characters felt like real people you might have known for years, which made the magical realism even more impactful.
Stand out performances included Jason Richter as Jimmy, Adella Bailey as Glory, and Nick Frazier as East. Richter's frenetic passion delivered a developed, emotionally impactful scene. Bailey's quirky charm created a lovable, earnest attitude around her character that tugged at the heart strings. Frazier showed impressive range and growth as his character swung from down to earth to intensely excited.
The technical elements worked in tandem to create a dreamy Maine landscape. Silhouettes of pine trees poked up against a fading sky, with the northern lights shimmering in the distance. Set, designed by Finley Cochran and Eleanor Heinbaugh, was made up of several different pieces that moved on and off, as well as rotated. It gracefully created the nine different locations used in the show. TJ Green and Rakeb Yihunie's lighting design used patterned light and twilight inspired colors to add depth and a sense of magic to the stage. Green also designed special effects, and their northern lights created the most impactful moment of the show.
Props and costumes showed dedicated attention to detail that truly brought the production to life. Halli Wilkerson and Maddie Schulz's costumes mostly consisted of practical plaid and denim that grounded the characters in their setting, each one unquestionably accurate to the character and scene. An outsider to the town was easy to identify by the way her stylish coat clashed against flannel pajamas and fleeces. Props, designed by Meg Hogan and Isabelle Milley, sold the magical realism of the show. Their playfulness and whimsy were at the core of the production.
Spartan Theatre's cast and crew should be proud of their tender, moving production. Acting and tech worked in unison to create a show that felt undeniably genuine, and most certainly, laced with magic.