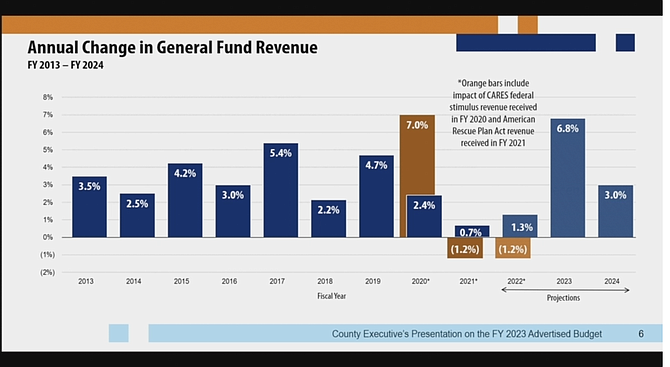 Fairfax County Executive Bryan Hill is proposing a $4.85 billion spending plan while maintaining the current real estate tax rate of $1.14 per $100 of assessed value according to his presentation on the FY 2023 Advertised Budget plan at the Board of Supervisors meeting on Feb. 22, 2022, at Fairfax County Government Center. 
Because of increased home assessments, the typical homeowner's tax payment would rise by $666, a 9.5 percent increase, according to Hill. "I did have to go back and recalculate that number, but I want you to know that is a true number," Hill said. "I expect mitigating this impact will be a priority." 
In addition, used car prices are soaring. Updated information from JD Power for January 2022 suggests an increase of over 33 percent. Hence, with no changes to the Personal Property Tax rate, the average vehicle tax levy for the taxpayer will increase by about $181 Revenues will increase by $83 million beyond what is included in the Advertised Budget.
Because of increased home assessments, the typical homeowner's tax payment would rise by $666, a 9.5 percent increase
CHAIRMAN Jeffrey C. McKay (D) warned the Board and audience before the County Executive's presentation that Hill's proposal was not the final budget. It was the first stage in a protracted process and schedule that sought public input before board approval. 
During the discussion, Supervisor James R. Walkinshaw (D-Braddock) said, "This one is going to shock the heck out of a lot of people. We're going to have to figure out how we can make an adjustment here."  
Supervisor Pat Herrity (R-Springfield) said in a statement after the meeting, "The real estate tax increase is on top of the 45 percent increase in real estate taxes over the last decade and comes while residents are facing record inflation, rising gas prices, and continuing to recover from the pandemic. Instead of increasing the burden on our struggling residents, the Board needs to prioritize the critical service issues that are going unaddressed and work to reduce the cost of government." 
The proposed budget prioritized compensation for county and Fairfax County Public Schools employees. "The budget proposal includes a 4.01 percent market rate adjustment for all County employees and performance, merit, and longevity increases," Hill said.
In addition, the County's living wage increases to $15.90 an hour; Performance, Merit, and Longevity increases, including a new 25-year step proposed for uniformed pay plans, an average increase of 2.15 percent for non-uniformed; 3.85 percent for uniformed. 
County compensation includes a 5 percent health insurance premium increase in Jan. 2023, and no changes in retirement employer contribution rates.
Tammie Wondong is the President of the Service Employees International Union (SEIU) Virginia 512 Fairfax and a 30-year county employee. "For two years, my co-workers and I have been working on the front lines of the pandemic, with just a 1 percent raise. The rising cost of living and our healthcare increases mean that our paychecks have actually gone down. That's why SEIU members called for fair pay, affordable care, and safe working conditions. Today's proposed budget is one step in that direction, but only collective bargaining can ensure the good jobs and quality public services our community needs."
A summary of the proposed FY 2023 Budget reports net county resources, revenues, and transfers increase by $330.17 million and of the increase: $127.84 million are for county priorities, $117.90 million for schools, $5.17 million for reserve requirements, and a $79.26 million balance for Board consideration. 
The proposed budget also fully funds Fairfax County Public Schools' request of $2.285 billion. Schools are 52.4 percent of General Fund Distribution in FY 2023.
Highlighting investments in board priorities are affordable housing ($1.52 million/7 positions), Diversion First Initiative ($1.05 million/7 positions), Opioid Task Force $0.40 million/3 positions), baseline support for Health Department staff, one public health nurse in all Fairfax County Public Schools, and additional resources for Public Health Readiness ($12.92 million), Language Access Program, and One Fairfax Support ($1.54 million/5 positions). 
The proposed budget supports residents facing vulnerability, providing $10.66 million and nine positions; including baseline funds for the Co-Responder Program, Behavioral  Health, Equitable School Readiness and Emergency Rental Assistance Program support; and baseline funds for Public Assistance Eligibility Workers, Child Protective Services, and Family First In-Home Services added at Carryover.   
"Lastly, we have begun to implement recommendations from the Joint County and Schools Capital Improvement Program Committee," Hill said. A net of 109 positions increases county positions.
Real estate taxes will be the primary source of funding for the County in the fiscal year 2023. Real estate taxes provide about 68 percent of general fund revenue, which is forecasted to increase by 8.1 percent over FY 2022. Taxes on personal property are likely to climb by 10.8 percent.
The proposed budget fully funds the Schools Operating request as included in Superintendent's Proposed Budget, a 5.1 percent increase. Schools budget includes:
* $88 million in increased sales tax and state aid
* 4 percent Market Scale Adjustment for all employees and Step Increases for eligible employees
* Reduction of over $88 million based on lower projected enrollment
* Baseline funding for initiatives previously funded with federal stimulus dollars
* $10 million placeholder for General Assembly actions
The FY 2023 Advertised Budget Plan and the FY 2023-FY 2027 Capital Improvement Program are available online at www.fairfaxcounty.gov/budget. 
To provide input, the public can send written testimony or communicate with the Clerk's Office by email at clerktothebos@fairfaxcounty.gov. The Board of Supervisors will hold public hearings on the budget April 12-14.