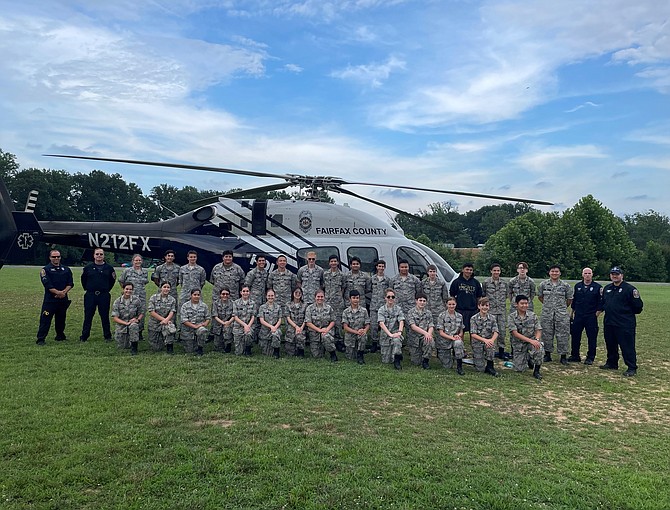 Members of the Burke Composite Squadron of the Civil Air Patrol were given an inside look at Fairfax One, the Fairfax County Police helicopter, July 7 at Washington Irving Middle School with a squadron team going on to take third place overall in the recently completed National Cadet Competition in Dayton, Ohio.
Chief pilot D. Andrew Edgerton briefed the squadron on the role of Fairfax One in search and rescue missions which was followed by an opportunity for cadets to sit inside the aircraft.
The Burke Composite Squadron is comprised of senior members 18 and older and cadets 12 to 18. It is one of 22 squadrons in the Virginia Wing of the Civil Air Patrol, which is the official auxiliary of the U.S. Air Force.
Cadet members went on to compete at the Civil Air Patrol National Cadet Competition, which included 16 teams from across the United States and Puerto Rico. The Burke cadets were announced as third place finishers July 18 behind the teams from Florida and Alaska.
Burke cadets competed over two days in various aspects of cadet life, including indoor posting of the colors, outdoor posting of the colors, drill, a written exam on leadership and aerospace, a team leadership problem, uniform preparation, fitness testing and public speaking.
"The competition was the perfect opportunity for our team to excel and have fun," said Cadet Team Commander Cadet Major Lucas Bottorff, a senior at Edison High School. "Our hours of preparation work paid off, and we made timeless memories and connections along the way."
The national competition was the first for the Burke Cadets, with the team placing in the top two in the following events: First Place – Written Exam; First Place Highest Individual Score Written Exam – With a perfect score – C/CMSgt Robert Kammerer; Second Place – Small Unmanned Aircraft Systems; Second Place – Indoor Posting; Second Place – Outdoor Posting.
For more information about Burke Composite Squadron, contact: va-130informationgroup@vawg.cap.gov