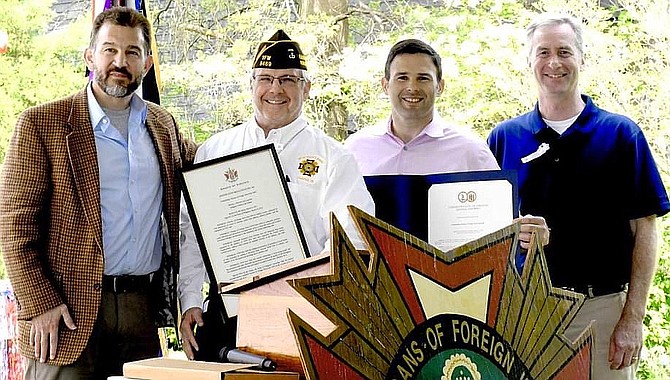 On April 30, VFW Post 8469 celebrated its 75th anniversary since being chartered. The post was chartered on Oct. 11, 1946, in Fairfax City and has been an integral part of the City and Fairfax County ever since. It's most visible marching in the Fairfax City Independence Day Parade and jointly leading the City's Veterans Day and Memorial Day ceremonies with American Legion Post 177.
In addition, the post raises funds for veterans' programs, supports classroom instruction and provides volunteer manpower for community efforts such as packaging food for Afghan refugees. It also supports Scout troops and recognizes excellence in community leaders, including teachers, law-enforcement officers and students. This year, the post will achieve both All-State and All-American status in the VFW for its exceptional performance and active support of veterans and the community.
During its anniversary celebration, VFW Post 8469 was honored by the presentation of a joint resolution from the Virginia House of Delegates and Senate recognizing the Post and its many accomplishments. Presenting it were Del. David Bulova (D-37th), Sen. Chap Petersen (D-34th) and Del. Dan Helmer (D-40th). Supervisor Pat Herrity (R-Springfield) presented a resolution on behalf of the Springfield District. 
There, as well, were Sheriff Stacey Kincaid and her husband, Virginia State Police Capt. Greg Kincaid; VFW Dept. of Virginia Chief of Staff Chris Birch; VFW Dept. of Virginia Inspector Charles Bush; and soldiers and families from the 29th Division of the Virginia National Guard. 
For more information about the post, go to www.vfw8469.com.
Photos Courtesy of Mac McCarl