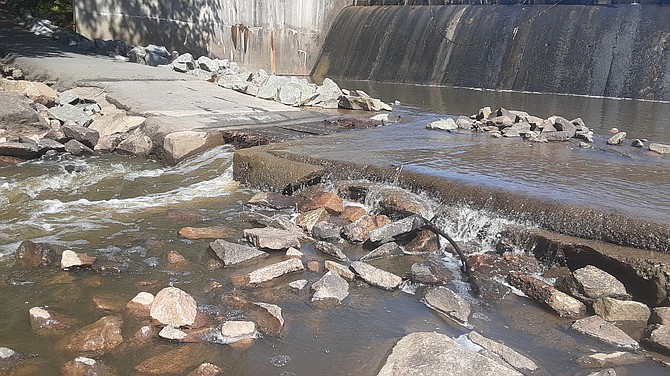 For residents of Springfield, the 3.5 mile walk around Lake Accotink is a great workout and good for a breath of fresh air but after any kind of rainfall, the hikers better bring their boots. Down below the lake's dam, water flowing into the creek overflows the drain flooding the path so the Fairfax County Park Authority is addressing it with the Lake Accotink Dam Stream Crossing Project.
The project involves creating approximately 300 feet of asphalt trail improvements and 325 feet on an elevated concrete pedestrian crossing over the dam outfall in Lake Accotink Park, FCPA said.
For Marcella Hernandez, it's a needed improvement. She's had to turn around a few times when she wasn't in the mood to cross it and get her shoes soaked.
"I've seen that for many years, it's needed," she said of the project. "I've come around on the trail some days and had to go back," she said.
Nick Huynh walked it a few times too. "I had to figure out how to cross, it was scary," he said.
At the flooding point below the dam, there is an overflow channel to address the excess water flowing into Accotink Creek and it has a grate over it so in normal conditions, there is no problem. Erosion has taken place though, and the path has a few channels cut right around the grate where the FCPA project will take place.
According to FCPA, this spot floods suddenly and frequently, often stranding trail users and tempting them to wade through swiftly running water. Excessive damage due to major storm events has required a total reconstruction of the trail twice in the last five years. This project will resolve these issues, enhancing safety and accessibility for park users, the FCPA said.
This water hazard was brought to their attention through complaints from the public when it is uncrossable, usually every heavy rain, and this also makes it difficult for the workers to reach that side of the lake when the path is uncrossable. After a heavy rain, wood debris blocks the path resulting in increased the workload of both site staff and Mobile Crew, who had to remove said debris every storm.
Project completion is anticipated in early 2023. Residents should expect occasional construction traffic entering and exiting the Accotink Park Road entrance. Portions of the surrounding Lake Accotink Trail will be closed, and signs posted during construction.