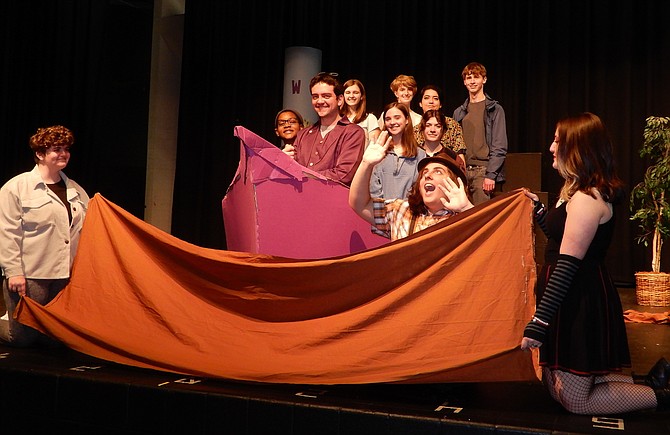 Eccentric and reclusive Willy Wonka hides five golden tickets inside chocolate-bar wrappers, and children finding them will get to tour his magical candy factory. He's seeking a child worthy of continuing his legacy there, and Charlie Bucket – a kind boy from a poor family – is overjoyed to find a ticket and be among the five winners.
That's the premise of author Roald Dahl's classic story, later made into a hit movie. This popular musical is also Centreville High's upcoming Cappies entry and will burst upon the stage Saturday, April 22, at 2 and 7 p.m., and Sunday, April 23, at 2 p.m.
Tickets are $15, adults; and $10, children 18 and under, at the door and via theatrecentreville.com. That Saturday, from 12:30-1:30 p.m., there'll be a community fair in the school gym with candy, games and other children's activities. That night's performance is the Cappies show.
It features a cast and crew of 25, and Centreville's new director, Patrick McGee, said it should really be something special. "There's a song in it called 'Pure Imagination,' and that's what I love about it – that the actors can bring their own imagination to their roles, along with the audience," he said. 
McGee is delighted, as well, with his cast's ability to play and have fun onstage. "One of my goals this year was to spark the joy of theater back into this building, and I have," he said. "We get to play every day. These students are committed to developing their skills of acting, singing and dancing, all at once. From the moment they warm up, until the final note, they're supporting each other and lifting each other up to create the strongest performance possible."
The story takes place in the 1990s, and – besides Charlie's house – scenes will take place inside Wonka's factory, with audiences seeing the chocolate river, the nut room with the squirrels and the pink candy boat. Parents and children visiting the factory together will wear clothes in matching colors, and the iconic Oompa Loompas – who make the chocolate – will have green hair plus orange socks and suspenders. 
"The audience will like the story, and people will be able to connect to the characters and experience the pure joy that theater can bring," said McGee. "It's about admitting the truth – which can be a great attribute for human beings. And our lighting designer, Elisabeth Stuebner, is using lots of cool lighting effects and colors to highlight each individual character's journey."
Portraying chocolatier Willy Wonka is senior Alexander Cox. "He's eccentric, complex and closed-off and never shows his true colors," said Cox. "You're never sure what you'll get from him. It's about the successor to his chocolate factory, but also his own candy dream. He's over-the-top and says completely unexpected and outrageous things."
Cox said this role challenges him "in all the right ways. And I like Wonka's moral ambiguity; he's not 100-percent good or 100-percent bad, so that adds complexity to the story." His favorite song is "I Want it Now," sung by the character Veruca Salt, because "It displays her character and it's really fun to see her greediness unfold." 
As for the audience, said Cox, "They'll love the show's energy – everybody completely commits themselves to what they're doing, and their passion is infectious. And the characters really shine through in their musical numbers."
Freshman Madelyn Regan plays 9-year-old Charlie Bucket. "He's optimistic, but a bit naïve, and wants the best for his family," she explained. "He's also imaginative and loves all things Wonka. He's poor, but dreams of a better future for his family."
Enjoying her role, she said, "Charlie has such personality. He brings life to every scene he's in and makes his dismal environment full of happiness. I'm honored to have been given this role because my director saw the potential in me and helped me discover Charlie's journey throughout the course of the show."
Regan especially likes the song, "I Eat More," sung by Gabe Amiryar as Augustus Gloop and Kelly Simpkins as his mother. "It's so ridiculous, and they do a wonderful job singing it," said Regan. "It's about how Augustus has always loved to eat."
She said the audience will be thrilled "to see everything they love from the movie brought to life on the stage by our amazing cast and tech team. And there are also adorable squirrel puppets and bubbles that kids will enjoy."
Portraying Veruca Salt is senior Katie Wood. "She's a headstrong, spoiled brat who just loves the spotlight," said Wood. "She takes full advantage of her father's wallet to get whatever she desires. She believes she's better than everyone else and deserves more than they do. She's self-assured about what she wants and isn't afraid to announce it to everyone. And she's so much fun to play because she's so wild. She has one of the biggest egos and personalities of all the child characters in the show – which sets her apart."
Wood's favorite song is "The Golden Age of Chocolate," sung by Wonka and the whole ensemble. "He announces he's retiring, and the Oompa Loompas are trying to convince him to stay. I love this number's energy, and it really conveys the relationship between Wonka and the Oompa Loompas and how much they respect him."
She said people will enjoy "how whimsical and colorful the show is, and how well the actors portray their characters' stereotypes – and break them – to bring new life to these classic roles."
Junior Gabe Amiryar plays Augustus Gloop, a greedy boy with a huge appetite. "His goal in life is truly just to eat as much as he can," said Amiryar. "He's not too bright and is dumbfounded by life and will do things even when people tell him not to. But he loves his mother, and she, him."
Loving his part, Amiryar is having a good time exploring Augustus's character. "I love eating, too, and falling into the chocolate river has been super fun," he said. "Augustus is diverse because he also has a good side and is probably the nicest kid of the group, besides Charlie."
He especially likes the number, "This Room Here," sung by Wonka and the entire cast. "He's introducing the factory and all its rooms to the kids," said Amiryar. "It's such a fun song – it's upbeat and cheerful and everyone's happy." Overall, he said, "Audiences will love the actors; each one is a perfect fit for their character. And our lighting design is great – the colors and movement will wow them."