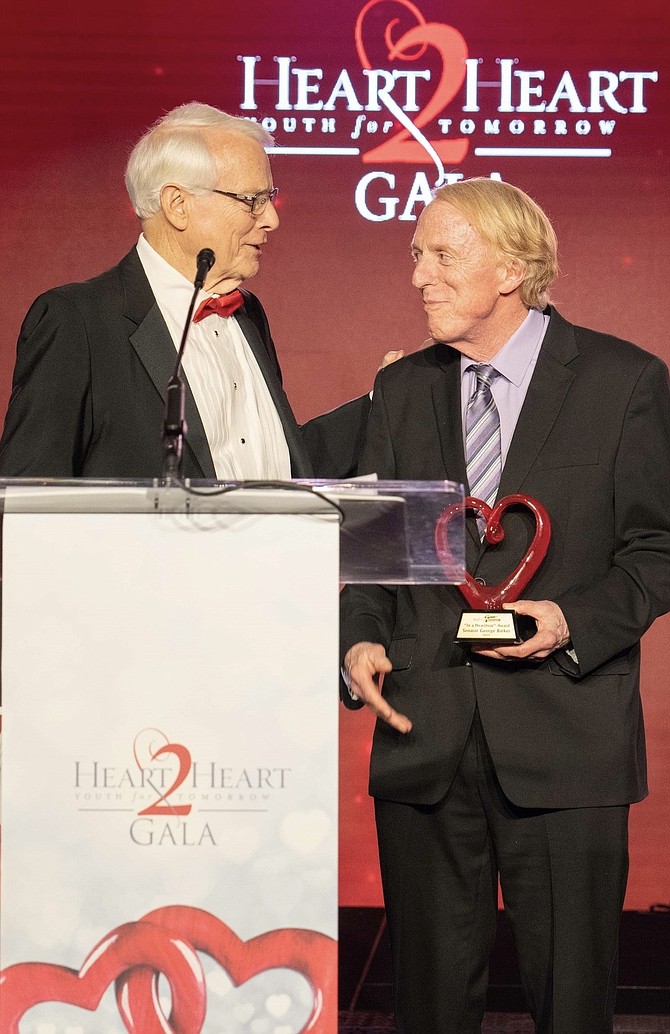 Youth For Tomorrow honored Sen. George Barker with its annual "In a Heartbeat" award, presented during its annual "Heart 2 Heart Gala" held on Saturday, Feb. 11. 
The non-profit organization founded by Coach Joe Gibbs provides children and families in crisis with an opportunity to focus their lives on positive change. With several offices in northern Virginia, the 30 year old foundation also operates a residential educational campus for teens in Bristow, Va. The group supports programs in local schools and private homes, serving the community as an alternative to overstretched child and family care systems.
Each year Youth For Tomorrow recognizes an individual or organization "who has made a positive impact on the lives of children and families in need and who exemplifies the core mission of YFT."  In presenting the award, chief executive officer, Dr Gary Jones, noted, "As a key member and Chair for several committees such as Commerce and Labor, as well as Education and Health, Senator Barker has kept in the forefront of key initiatives affecting the lives of those he represents in a positive way. His incredible record of legislation passed includes Health Workforce Development Authority, Children's Services Act, resources for prenatal and postnatal depression, prescription monitoring program, and most recently VA Opioid Abatement Authority, and protections under the Virginia Freedom of Information Act."
Accepting the award, Senator Barker commented, "In your life you are called to do things – all of us are called – and there are many opportunities we all have to help, particularly what we can do to help children."
The gala, attended by over 900 guests, included entertainment by country music star, Trace Adkins, and a fundraising auction. Donations support care which includes treatment group homes for boys and girls, services to pregnant teens; help for young victims of trafficking; crisis intervention counseling services; outpatient and therapeutic day treatment; intensive in-home services; and therapeutic mentoring.
For more on the Youth For Tomorrow mission and services, including education, counseling, and foster care, see https://youthfortomorrow.org