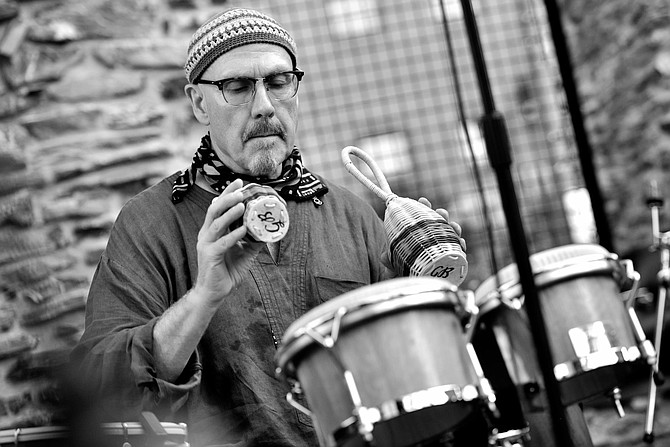 Tom Teasley's music is all over the place. He's a native Alexandrian who uses all kinds of drums, cymbals, stringed instruments, keyboards and water to create a sound that is totally unique in the world of music. It's taken him all over the world too and in mid April, he's back at the Workhouse Arts Center with an international cast in a show titled "Tom Teasley and Friends."
"I grew up playing in rock bands," Teasley said. He was a drummer in a band that played at the Cellar Door club in DC, the Wharf and 219 King Street, and also toured with a 1980s group called the Nighthawks.
Now he is an internationally acclaimed percussionist who specializes in world music using a variety of instruments and sound engineering skills. One skill he's recently adopted is to play soundtracks to old, silent movies. This includes original soundtracks to Charlie Chaplin's "The Immigrant" and Buster Keaton's "Sherlock, Jr." It breathes a new life to these cinematic classics. "I started touring with the State Department," he said, and from there he played at the U.S. embassies in Saudi Arabia, Bahrain, Iraq, Samoa, Oman, and Jerusalem.
His upcoming show at the Workhouse has an international flair too. He will be playing with Indian bansuri master and keyboardist John Wubbenhorst, and Thai dancer Suteera Nagavajara in a premier East/West collaboration. He looks at dance as a beautiful contrast. "She's bringing an entirely different element," he said.
His upcoming Workhouse show is described as a collection of "global jazz percussion stylings," incorporating the bamboo flute and the subtle movement in Thai dancing. Ganesh Kumar will be part of the show with a small tambourine called a kanjira and he will share the stage with keyboardist Geoff Rorhbach.
His music is perfect for the Workhouse, said Liz Colandene, Performing Arts Coordinator. "His music is always considerate and inspired by the artworks around him in our galleries and he brings with him collaborators of many diverse backgrounds to perform," she said.
Musical Milestones
After Teasley's stint as a drummer in a rock band, he went to Peabody Music School, and then played for the U.S. Navy Band for six years while he was finding his niche. It wasn't until he landed in New Orleans and experienced all the different versions of jazz that he began experimenting with percussion sounds using all his musical skills adhering to sounds of traditional music.
Teasley's list of awards includes DRUM! Magazine Drummie Award World Percussionist of the Year, five Fulbright-Hayes Awards for collaborating with indigenous master musicians and WAMA Washington Area Music Award for Outstanding World Music Instrumentalist 2012, 2013, 2014, 2015 and 2020. This spring, he starts his residency as a musician at George Mason University "where I will present workshops and write music featuring my eclectic world/jazz approach to percussion," he said.
"I've been fortunate to follow my passion with the music," he said, "helps keep me young at heart."